Thursday May 3, 2018
from 5 pm    Welcome drink in the Lobby
Friday May 4, 2018
8:30 am – 9.30 am Entry of dogs at Show office
9:30 am         Opening of the Show (Annual Specialty Show of SCS)
3.30 pm         Final competitions
from 4:30      Eyes testing
6 pm               Seminar and workshop
Saturday May 5, 2018
8:30 am – 9.30 am Entry of dogs at Show office
9:30 am         Opening of the EURO Samoyed Show
3.30 pm         Final competitions
8 pm              Gala Evening
Sunday May 6, 2018
Free programme
Optional:  visit to Nitra Castle (depending on interest)
---
CERTIFIED EYE EXAMINTION
MVDr. Faga will be at your disposal in the afternoon t examine your dogs´eyes including Gonioscopy. You will get a Certificate. All you need is to bring with you is Pedigree and Pet Passport. If your dog was examined before you can also bring a copy of the Certificate. The fee is paid to the Veterinarian at the place. Please contact us if interested, we need to know the approximate number of dogs. Email: samojedks@gmail.com
SEMINAR AND WORKSHOPS
We invited interesting speakers from abroad to lead us through the Seminar and worshops and the topics are also very accurate these days as they are aimed at health problems and public data sharing as well as Samoyed Standard.
Brian Harris (New Zealand) – "Let´s get rid of Samoyed Standard – part 2". I bet many of you will remember Brian´s speech from Bratislava, the 2nd World Samoyed Meeting, where his appealing speech "Let´s get rid of Samoyed Standard" took all the attention and was well discussed ever after. We are quite positive we all want to know what has changed over those 8 year and of course, even if you were not in Bratislava, we are sure this topic is really very important one these days. Especially when the knowledge and opinions come from a long-term breeder and judge of Samoyeds. Discussion/workshop will follow.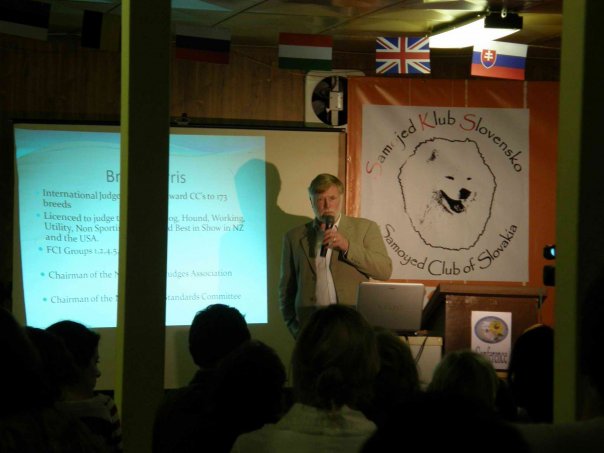 Katja Korpisalo a Jenni Korpisalo-Kohvakka – "Public health database, how it Works and pros and cons for Samoyed breeders". Sisters Katja and Jenni are long-term breeders of Samoyeds from Finland, long term Club members in Finland but also abroad. They also work in Finnish breeders´Club Commities, including Health Commitee of Finnish Samoyed Club. Finnish database is one of the best databases in the world of cynology. It is a public database full of useful information for every responsible breeder. How does the free breeding and public health database affect health of Samoyeds in Finland? What are the pros and cons? It will be more than interesting to find out and share our experiences.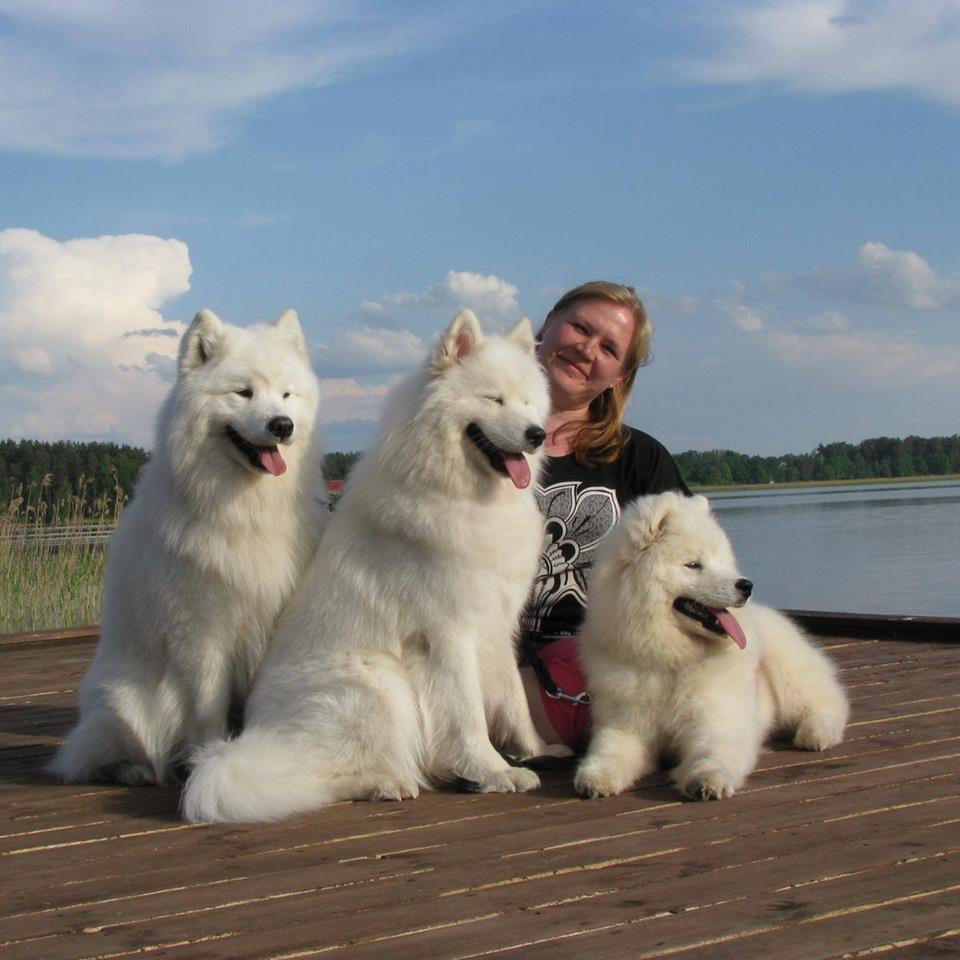 Price of Seminar is 10,-€ per person. This price includes also coffee, tea, snacks, drinks and cold dinner. You will get pens/pencils and notebooks as a small present from us, so you are able to take notes throughout the Seminar.
GALA EVENING
The icing on a cake will be the festive Gala dinner and dancing night on Saturday. We will celebrate successful weekend together, have a lot of fun, taste great Slovak cuisine and delicious Slovak wines. There will be many beautiful Samoyed items for you in Silent Auction and quite a few surprises to look for including a small present to remember Slovakia. Join us at this special evening to be remembered.
Price list of Gala Evening:
Adults: 25,– €        Children up to 3 y.o.: FREE            Children 3 – 12 years: 13,-€       Children 13 – 17 years: 20,-€
Price incudes: snacks, non alkoholic drinks, wine, coffee, tea, tasty dinner of your choice, lovely desserts. There will be a bar open at your disposal if you prefer beer or "stronger" liquers.
IMPORTANT NOTE: You should book your attendance at Seminar and Gala Evening together with Show Entries via www.dogshow.sk.
If you are not entering your dogs to Shows and wish to take part only at Seminar or Gala Evening, please contact us at samojedks@gmail.com
SILENT AUCTION
We trully welcome any donations to our Silent Auction, as the profit will support our Club´s Samoyed Rescue System. If you would be so kind and donate an Item, please let us know at yoshi@stonline.sk Thank you in advance